Spray Dryer For Detergent Powder
Pressure spray drying equipment is commonly used in the production of washing powder, its advantages are large production, good fluidity, not easy to agglomerate, good appearance and solubility.
There are two ways to produce washing powder using pressure spray drying tower:
1. Downstream spray mode,It is characterized by short contact time, low tower body and large output.Suitable for drying heat sensitive materials, but the product density is low, and more, low use of heat energy.
2. Countercurrent spray mode, Since the moist droplets of countercurrent spray are in contact with hot air at the upper section of the drying tower, and then the droplets and hot air flow downward through gravity at the same time, and then evaporate in the process of falling, the exhaust gas temperature is lower, and the temperature difference between the gas-liquid phase is larger, so the thermal efficiency of countercurrent drying is higher than that of downstream drying.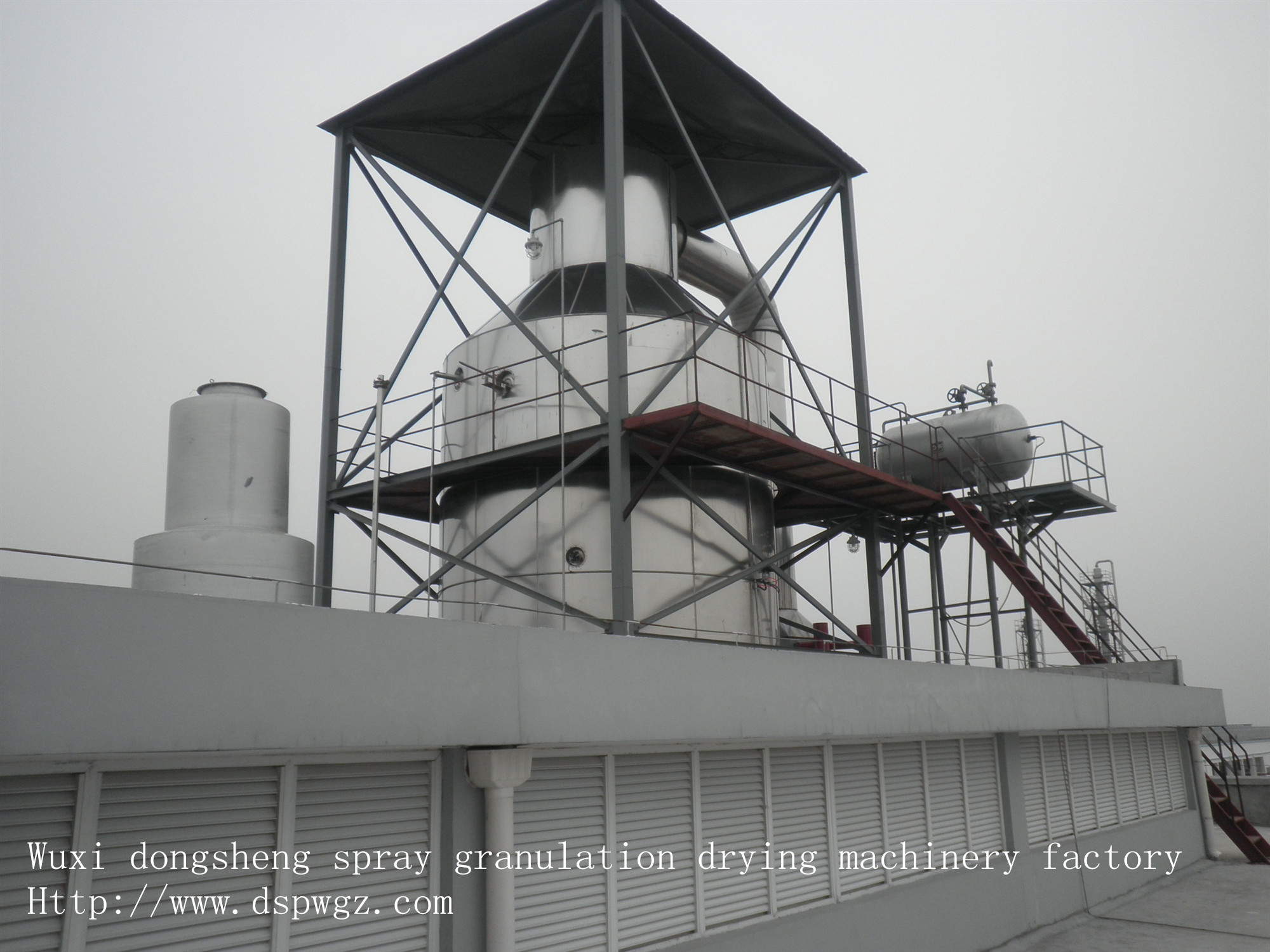 Flow of spray drying in downstream form:
The material liquid is sent into the pressure spray gun on the top of the drying tower through the high-pressure pump or homogenizer, and the material liquid forms fog droplets through the pressure spray gun.(the quantity of the pressure spray gun is determined according to the evaporation quantity of the equipment, the larger the evaporation quantity, the more the pressure spray gun). The air is filtered and heated and fed to the drying tower by the blower. When the hot air enters the drying tower, it contacts with the fog droplets, and both of them fall down to the bottom of the drying tower by rotating in the drying tower. In the process of falling, the water in the fog droplets is evaporated to form water vapor, and the products fall from the bottom of the drying tower.
Fine powder and steam are pumped into the dust removal system by the draft fan.
Exhaust air temperature is the main factor affecting the moisture content of finished products, so the reason for the high moisture content of products is generally the exhaust air temperature is too low. And the exhaust air temperature can be adjusted by the amount of feed. Therefore, the corresponding measures are appropriate to reduce the amount of feed, in order to improve the exhaust temperat
...more